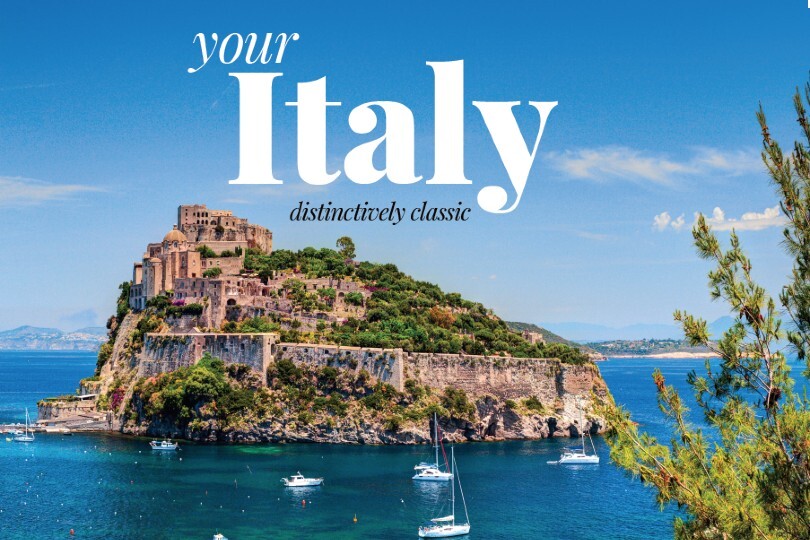 April 11, 2022by Grace Howard
Classic Collection has launched its "biggest business incentive ever" – offering agents the chance to win a custom Vespa scooter.
To be eligible to win the prize, agents must make a reservation at selected hotels from Classic's new Italy brochure.
The program includes 42 new properties, luxury private yacht charters and rail travel from the UK to Florence and Venice.
Agents must make a reservation for departures between April 11 and May 31 to participate, with each sale counting as one entry.
Those who secure reservations will receive a ticket and take part in a weekly ballot. One name will be drawn each week and placed in the Grand Finals draw on June 10.
An agent will be selected as the winner of the Vespa – and can also customize the scooter to their liking.
The incentive comes as Classic increases its Italian portfolio, adding seven hotels to its Sorrento and Amalfi Coast offering. Properties in Sardinia include Forte Village alongside the first Conrad to open in Italy – Conrad Chia Laguna Sardinia – as well as the new 7Pines Resort.
Classic Collection has expanded its Italian portfolio by adding seven hotels to its Sorrento and Amalfi Coast offering
In Sicily, the brochure presents eight new establishments including two all-inclusive hotels, Unahotel Naxos Beach Sicilia and Gran palladium Sicilia Resort & Spa.
Meanwhile, new tours include a foodie tour of Tuscany, while Luxury Yacht Charters I include skipper and crew and serve groups of two to eight people.
Alex Gavalda, Product and Commercial Director, said: "Italy is an important part of the Classic Collection portfolio and it is encouraging to see that since January sales have rebounded to 2019 levels. also experienced a significant increase. »
Mirko Buzzelli, Head of Product Sourcing and Head of the Italy Team, added: "The most important points in terms of regions have been Sorrento, which remains our main destination in Italy in terms of volume, and where we have expanded our range by offering clients more choice of popular 4 star properties in the UK market.
"In Sicily and Sardinia, we have identified huge growth potential, adding all-inclusive options, new boutique hotels and exciting new openings in the luxury segment. Along with train travel, 12 private tour routes unique and exclusive yacht charters, we have covered all the bases."