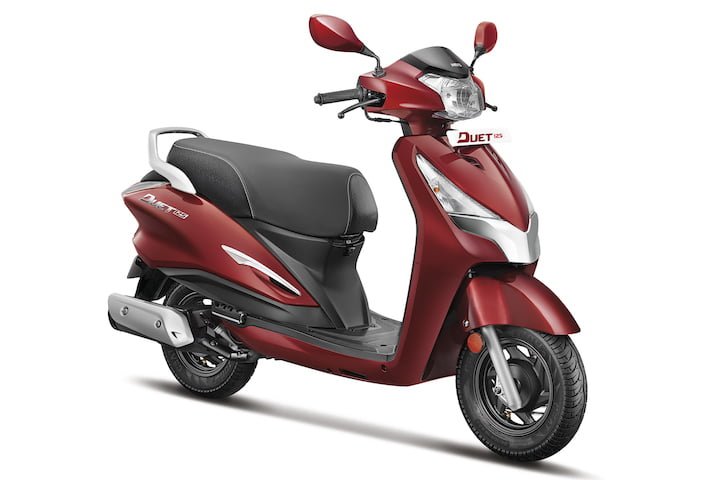 Hero Motocorp unveiled two new 125 CC scooters at Auto Expo 2018 – the Heroes Maestro Edge 125 i3S and the Hero Duet 125 CC i3S. These two scooters use the same engines which are single cylinder gasoline with automatic transmission and deliver a maximum power of 8.7 BHP of maximum power and a maximum torque of 10.2 Nm. These two scooters offer the automatic idle stop system. called i3S which automatically shuts off the engine when the vehicle is stationary, whether in traffic or at a red signal. The engine will come back on when the throttle is used by the rider, saving fuel by reducing engine idle time.
In terms of design, the Hero Duet 125 i3S looks more attractive and modern compared to the current model. Aesthetically, you get silver accents and large turn signals up front. The headlamp is large and has a clear design. The i3S brand is also visible on the front of the scooter.
The texture of the seat is also two-tone and the size of the seat looks moderate. There are telescopic front suspensions and combination brakes. Both front and rear are equipped with drum brakes. The side profile of the scooter looks average while the rear looks attractive. There is also a silver colored heat shield on the tailpipe as well as silver grab bars behind the passenger seat.
There are two-tone climbs all around the scooter with body-colored mirrors adding to the visual appeal of the Duet 125 CC.
Hero Duel 125 CC photo gallery
Pricing and availability
The price of the Hero Duet 125 i3S will be between Rs. 53,000 to Rs. 56,000 price ranges and is expected to be put into circulation during the calendar year 2018.