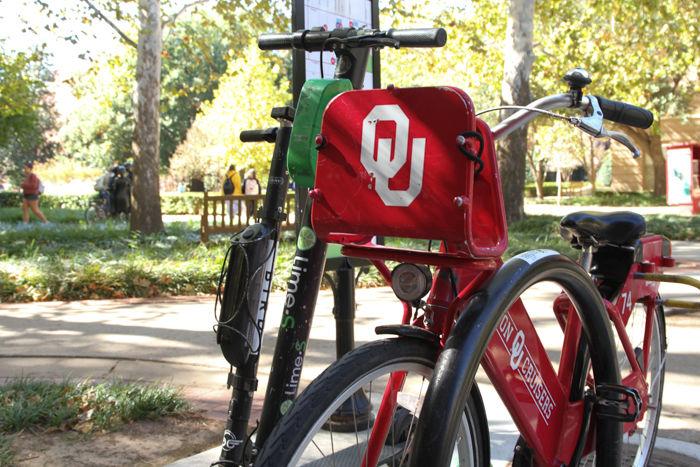 A new brand of e-bikes and scooters will replace the Bird and Lime scooters and Crimson Cruisers at OU in the coming months.
The university is in the process of signing a new contract with an unannounced company to create exclusive OU brand scooters and e-bikes that will be used on campus by the spring 2020 semester, said Kris Glenn, director. transportation and parking.
Glenn said they didn't know how companies like Bird and Lime would be affected by the change until the contract was finalized.
The Crimson Cruisers will be replaced with electric bikes, a pedal bike that costs $ 1 to unlock, and an indecisive amount per minute of travel.
"We decided that as a university we wanted to have scooters on campus," Glenn said. "They are obviously very popular with the students, we just wanted to make sure that we had an exclusive supplier who would follow our rules, share the income with the university and that it was the lowest possible cost for the students."
Over 71% of students use the Bird and Lime scooters instead of the Crimson Cruisers because they are more accessible, according to data compiled from a Twitter OR Daily poll of 53 participating students.
"I always see people on scooters. It's almost easier than having your own bike because you can leave it anywhere you want, and it doesn't matter unless you're a charger – then you have to find them, "said Kourtney Daugherty, senior in film and media studies and Bird. charger.
The students said it was difficult to find the location of the Crimson Cruisers and that the Social Bicycles app used to unlock the bikes is difficult to navigate, according to the results of the OU Daily poll.
Crimson Cruisers can only be found at certain hubs around campus, where scooters are available almost anywhere and can be located through their respective apps.
For Casey Shaw, a regular Crimson Cruiser pilot and senior in political science and environmental sustainability, getting rid of Crimson Cruisers is not a welcome change.
"The argument for Crimson Cruisers over scooters would be based primarily on their lower cost," Shaw said. "It's much more financially responsible to ride a bike for free than to ride a scooter for as much as $ 7 or $ 8, depending on the length of the trip."
What many students don't know is that for the first hour of use, Crimson Cruisers are free. Cyclists are charged $ 5 per minute if they exceed this hour and $ 50 if they park their bikes in an unnamed location.
Even though the Crimson Cruisers will no longer be available, the new contract will still offer bike options for students. Bikes replacing the Crimson Cruisers will be pedal assisted, which means motorized bikes will make pedaling all the way to class easier.
The new varsity scooter system could also be a game-changer for electric scooter chargers.
For Girl, mornings start early. After parking next to the Catlett Music Center, Daugherty uses his two-hour break between classes to collect scooters to recharge.
"If I have time to kill, I'll just go get a bird," Daugherty said.
Daugherty is a charger for Bird to pay for small expenses, like his morning coffee. Daugherty said charging a scooter costs between $ 3 and $ 5 depending on the location of the scooter.
"I'm 9pm this semester and don't want to have a job now," Daugherty said. "It's easy because I can do it whenever I want. I had a few months off, and they don't care.
Glenn said the contract will be responsible for hiring people to load and maintain the bikes.
"It won't be just any random person who loads it up," Glenn said. "They will have to… be employees of this company, and they will make sure that the scooters are loaded, that they are distributed evenly across campus, and that they are parked in the right places."
Gotcha, an electric transport company and current bicycle supplier for Crimson Cruisers, is now terminating its two-year contract with the university. The contract, obtained by the OU Student Government Association, placed Crimson Cruisers on campus and reduced costs for students.
Glenn said the university paid around $ 100,000 for the Crimson Cruisers. Gotcha no longer offers this business model and instead moves to a model where students pay for their ride.
"This model just doesn't work anymore," Glenn said.
Glenn said the new contract scooters and bikes will have parking spaces similar to those currently in place for Crimson Cruisers.
"We don't want scooters scattered all over campus in doorways, lying on their sides in the grass," Glenn said. "We want to create virtual hubs or paint graphics on the ground… which makes it a lot more organized. "
Glenn said this new method of parking will be convenient for students while providing more organization than Bird or Lime scooters. By offering these new scooters and bikes, Glenn said OU Parking and Transportation hopes to provide more accessible transportation for students.
With the new contract, OU Parking and Transportation plans to reinvest the income generated by scooters and bicycles into the university.
"I think what we hope from this partnership is that they share the revenues with the university, and that these revenues be reinvested in infrastructure for bike paths, parking for bicycles and scooters … creating forms more sustainable transportation, "said Glenn.